Randy Morrow Trail Last mile of trail towards dam October, by johndrichter.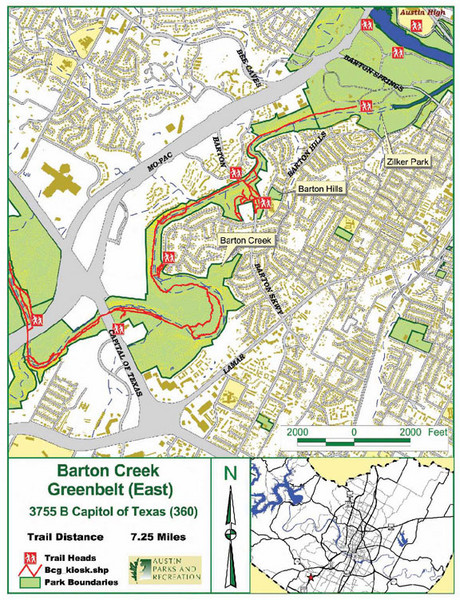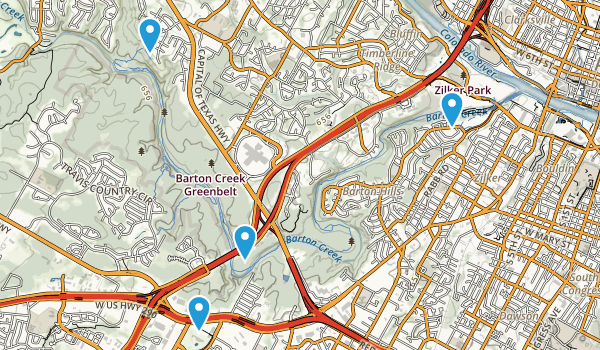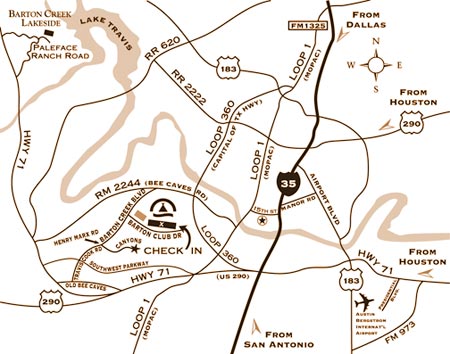 Other than that, great trail and a fun day. So much space to explore! With so many access points and side trails, you can really tailor your Greenbelt experience to exactly what you're looking for.
I've hiked this trail so many times over the last decade. Lots of great nature, and swimming when there's rain. Quite a few trail heads so you can kind of pick and choose your experience each time. The downside is the popularity. In the summers some of the swimming spots occasionally get trashed by college kids. Good for getting some nature, but not a place to search for solitude. I ran from Zilker Park to the Gus Fruh trailhead. Every trail i run, I seem to want to come on here and say, "This is the most rocky and rooty trail!
While the Hill of Life at the west end of the greenbelt is definitely the most rocky part, this section definitely forces trailrunners to step carefully. Besides the very beginning, I hardly had a flat surface to run on. I was constantly "prancing" and "tip toeing" through and on top of rocks, loose and solid, ranging in size from golf balls to grape fruits and larger. You need some trail running practice for high stepping, careful stepping, etc?
This is definitely your trail. And if you get tired and wanna take a break from running, just cool your feet in the creek. The part of the trail I hiked yesterday is fairly similar to the rest of the greenbelt, but the pathway leading to and from it is very challenging. The Hill of Life, as it's called, is for experienced hikers because it's steep and winding. Overall, the area near Sculpture Falls is the best part of the trek.
This was a beautiful trail with many sights to see along the path. Pretty flowers and water views. We took a wrong turn on way back and had to rock climb out of there.
Pretty trail but the river is dried. Would suggest when there is more water. Pretty but river is dry. Weather is super hot. Nice trail when there is water! Heavily trafficked on weekends. I've been running and hiking "The Greenbelt," as well as climbing the surrounding sport routes, for over 15 years. At times, you can be alone in paradise, and at other times, you can be one of oh so many getting smacked by the sun and the humidity and the blood-thirsty mosquitoes.
I only add this because if you go and aren't impressed, give the trail another chance; drop in at a different trail head; start at a different time of the day.
For being in the center of the city, the GB is pretty dang good. Our family is new to Austin and just tried out a portion of this trail - loved it! The only negative was that it was hard to find since we're not from the area. It looked like the last mile of the trail going up along the dam was just for hiking. We did not try on bikes. Does anyone know if the last mile is "bikable?
I love the trail! I live nearby and would bike along the trail a couple of times each week. The wildlife we can see around the main trail- deer, grey heron, geese, ducks, et cetera, makes me miss them and want to see them often. The scene is quite spectacular. You can bike pretty close to the trees and heron by following the small path underneath the bridge from the sports complex, in the opposite direction from the railway. I depend on this trail for much needed daily walks but am slowly beginning to avoid it as there's too many times I've been almost run over by cyclists.
Avoid the off-the-path trail which runs along the creek on the weekends as there are too many cyclists and they'll expect you to get over and stand in thigh-high weeds for them. Also, some race down steep slopes so fast that it will be impossible for them to stop for a pedestrian.
The path along the creek is better on the weekdays. Pedestrians really need to keep their wits about them and listen and watch for cyclists coming from behind or in front as many won't be watching for pedestrians. I will first say this: If you are a beginner, this trail is not for you!
There is many steep levels, both asphalt, and crushed granite. You have to be prepared to go uphills, and often! The views are what made it though! You start off at a park scene, and end up at the beautiful Lake Georgetown. This trail is a must ride for avid trail riders. I absolutely love this trail! I used to live directly on the trail-path, and I would ride my bike on the trail daily.
I recently moved, so I cant ride it as often as I used to, but let me tell you, I do every chance I get! The main trail has many trail paths off the main path that allow you to enjoy a rugged mountain bike experience , but it also features a great concrete Main Trail , with some areas being crushed stone; which allow you to speed ride comfortable. The scenery is what originally got me! Some areas are wooded, with a creek running beside you, and some areas have a lake, parks, bridges; its quite the outdoor experience.
This trail is a must ride, if you haven't already! I live in Houston and I've heard a lot of great reviews about this trail. The length of the trail is great and same as the scenery. The best part of the trail is the boardwalk and the Pfluger Pedestrian Bridge.
My wife complains about the why the trail is not paved, it was too dusty. We went over to the east side of the S Pleasant Valley Rd. Lacking of the "You Are Here" Maps, we could not get a good idea of which part of the trail we were at.
Great trail BUT please be careful! A couple of bikers were assaulted this morning by a man on a mountain bike. He was acting bizarrely they said. Please be aware of what is going on around you!
The trail is shaded in most places, meandering through nature on either side. Excellent signage is provided along the trail. TrailLink is a free service provided by Rails-to-Trails Conservancy a non-profit and we need your support! Barton Creek Trails and Maps. Looking for the best trails around Barton Creek? Relevance Name Length Most Popular. Austin to Manor Trail 2.
Barton Creek Greenbelt 7. Brushy Creek Regional Trail Cottonwood Creek Trail TX 3. County Line Memorial Trail 2. Hike and Bike Trail Taylor 3.
Lance Armstrong Bikeway Crosstown Greenway 4. Mission Reach 8 mi. MoPac Mobility Bridges 2 mi. Randy Morrow Trail 5. San Gabriel Park Trail 1. Shoal Creek Trail 3. Southern Walnut Creek Trail 8.
Austin to Manor Trail. Brushy Creek Regional Trail. Cottonwood Creek Trail TX. County Line Memorial Trail. Hike and Bike Trail Taylor.
View an interactive 3D center map for Barton Creek Square that provides point-to-point directions along with an offline mall map. Whether you're visiting us for a meeting or a family vacation, our resort map will help you navigate our hotel and spa and discover activities. Barton Springs Zilker Elementary School Loop Loop Mopac Mopac. South Lamar Blvd. Highway B e e C a v e s arlton Ln. Barton Skyway Barton Hills Elementary School B a r t o n S k y w a y Barton Creek Greenbelt Map Keywords: Barton Creek Greenbelt Map .